First Saturday of every month at Cornelia Street Café
With special shows here and there. Check our schedule.
---
SATURDAY, DECEMBER 12 at 7 PM
THE MOUNT
Edith Wharton's Home
2 Plunkett St. Lenox, MA
Tickets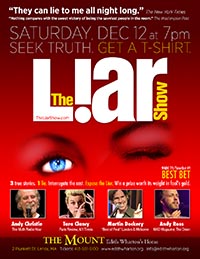 ANDY CHRISTIE - The Moth Radio Hour; N.Y. Times
TARA CLANCY - N.Y. Times; Paris Review
MARTIN DOCKERY - Melbourne Comedy and London Storytelling Festivals
ANDY ROSS - Mad Magazine; The Onion News Network

---
NEW YEAR'S EVE!
THURSDAY, DECEMBER 31
6 PM
Yep. 6 PM. "The most festive hour of the year!"
PETER AGUERO - The Moth Radio Hour; BTK Band
LESLIE GOSHKO -Huffington Post; Sideshow Goshko
MICHAELA MURPHY - The New Yorker; Moth Mainstage
GASTOR ALMONTE - Stoops 2 Stages
Host: ANDY CHRISTIE - The Moth Radio Hour; N.Y. Times

CORNELIA STREET CAFE
29 Cornelia Street
(Between W4th & Bleecker)
$25 admission includes champagne
RESERVATIONS HIGHLY RECOMMENDED: 212-989-9319
---
SATURDAY, FEBRUARY 6 at 6 PM


ANGELA COBB - She-Devil Comedy Festival
JEFF SIMMERMON -NPR's This American Life
JOANNE SOLOMON - The Moth
ADAM WADE - Inside Amy Schumer

With special guest hosts!
GASTOR ALMONTE - Stoops2Stages
GAIL THOMAS - David Letterman; Beavis & Butthead

CORNELIA STREET CAFE
29 Cornelia Street
(Between W4th & Bleecker)
$10 admission plus $10 drink
RESERVATIONS HIGHLY RECOMMENDED: 212-989-9319
---