"They can lie to me all night long." The New York Times
"A prime example of the power of storytelling.
Entertaining, sociable and psychologically revealing,
The Liar Show is a simple idea, brilliantly done"
The Independent
---
---
AT THE EDINBURGH FRINGE:




"A WINNER!" 4 Stars, The Scotsman
"UNIFORMLY RIVETING.
The concept is brilliant and flawlessly executed by Andy Christie."
4 Stars, BroadwayBaby
"Raucous fun is had by all." 4 Stars, Three Weeks
---

We're a WNBC TV/TimeOut NY "Best Bet"
They couldn't say it if it wasn't true. It's TV!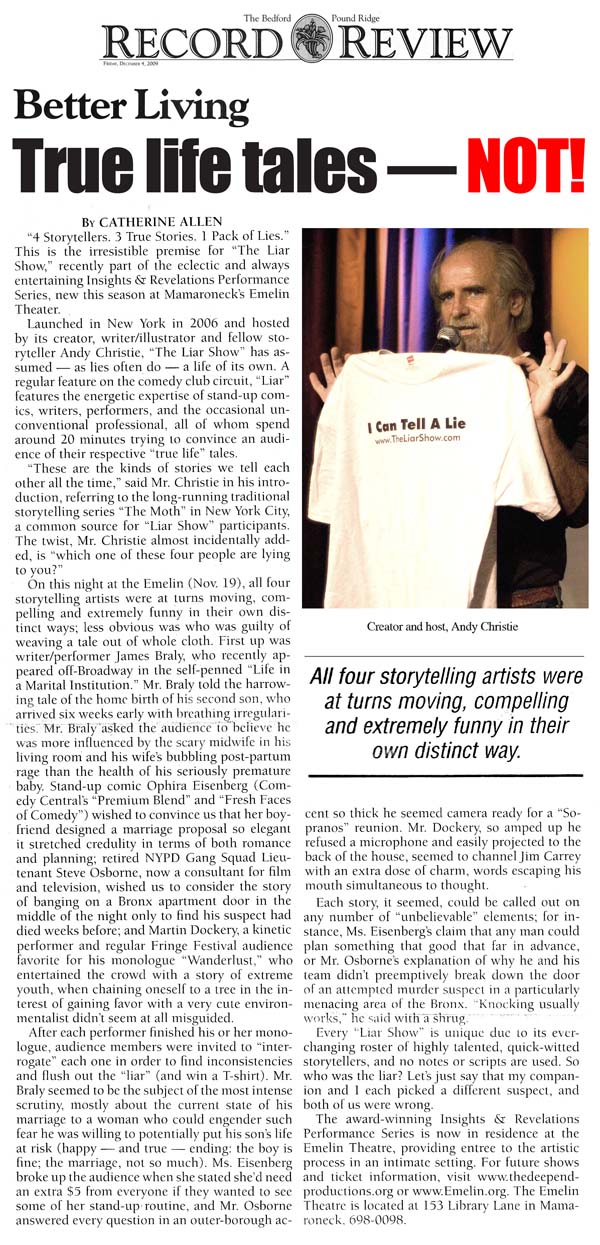 "At turns moving, compelling and extremely funny."
-The Record Review, Better Living

A TimeOut New York "CRITICS PICK"

"A Winner!" 4 Stars -The Scotsman (Edinburgh Comedy Festival)

"The show last night was FANTASTIC!!!
I really can't wait to have you back as soon as we can!"
-Marianne Ways, Comix Comedy Club, NYC

"A wonderfully original spoken word experience."-Journal News Editors' Pick

"We love this kind of theater. While it entertains, it makes us think."
-NY Record-Review, Talk Of The Town

"Thank you for delivering yet another fabulous show.
I always love you and your band of storytellers"
-Kambri Crews, Balyhoo Promotions

"The Liar Show was a highlight of our season. Our audience members are still talking about it.
Brilliant storytelling, and so much fun too!"
- Anna Becker, The Insights & Revelations Performance Series

"The show was great! I will definitely keep you guys in mind for next time."
-Stromberg Consulting

"Andy Christie has a true hit on his hands." -Chelsea Now

"A terrific event! Definitely one of the most fun events we've ever had."
-Program Coordinator, Port Washington Library
---