"They can lie to me all night long." The New York Times
"A prime example of the power of storytelling.
Entertaining, sociable and psychologically revealing,
The Liar Show is a simple idea, brilliantly done"
The Independent
---
---
A mini Liar Show from the March 12, 2015 Brian Lehrer Show on WNYC.
With Andy Christie, Jim O'Grady and Ophira Eisenberg. Followed by a March 13 recap with Jim and Brian discussing what nonfiction writers and journalists might find attractive about an opportunity to lie for fun.
---
A TRUE story by Liar Show creator Andy Christie is included in The Moth's new book., which just landed on the N.Y Times Best Seler list. Buy it or listen to the story on The Moth Podcast.
---
---
AT THE EDINBURGH FRINGE:




"A WINNER!" 4 Stars, The Scotsman
"UNIFORMLY RIVETING.
The concept is brilliant and flawlessly executed by Andy Christie."
4 Stars, BroadwayBaby
"Raucous fun is had by all." 4 Stars, Three Weeks
---

We're a WNBC TV/TimeOut NY "Best Bet"
They couldn't say it if it wasn't true. It's TV!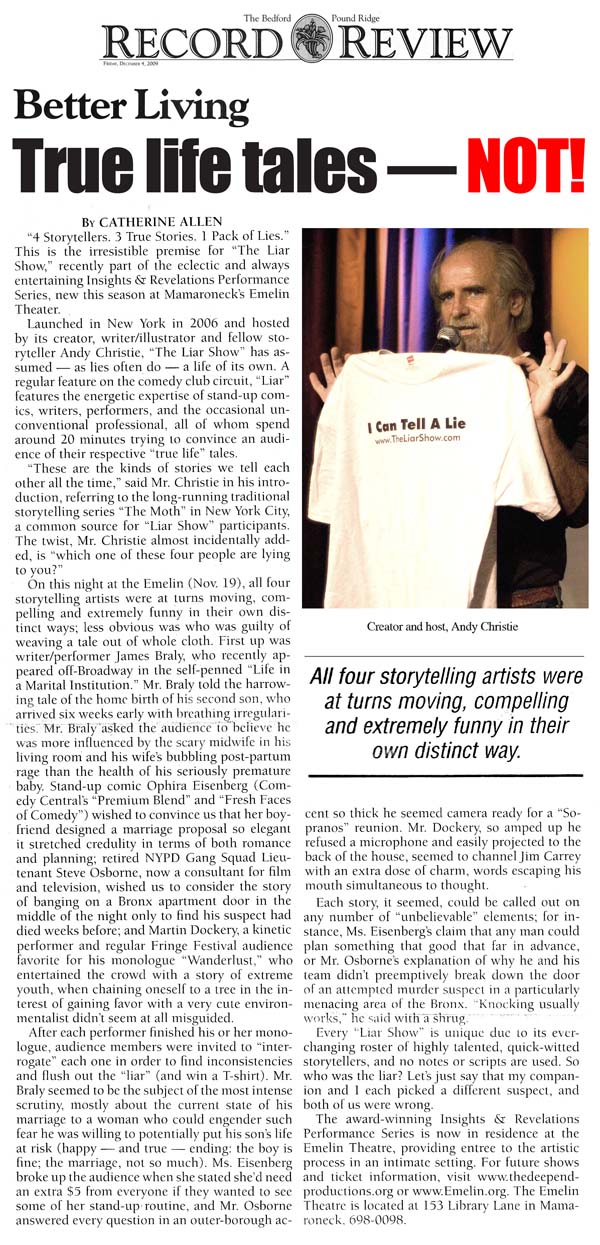 "At turns moving, compelling and extremely funny."
-The Record Review, Better Living

A TimeOut New York "CRITICS PICK"

"A Winner!" 4 Stars -The Scotsman (Edinburgh Comedy Festival)

"The show last night was FANTASTIC!!!
I really can't wait to have you back as soon as we can!"
-Marianne Ways, Comix Comedy Club, NYC

"A wonderfully original spoken word experience."-Journal News Editors' Pick

"We love this kind of theater. While it entertains, it makes us think."
-NY Record-Review, Talk Of The Town

"Thank you for delivering yet another fabulous show.
I always love you and your band of storytellers"
-Kambri Crews, Balyhoo Promotions

"The Liar Show was a highlight of our season. Our audience members are still talking about it.
Brilliant storytelling, and so much fun too!"
- Anna Becker, The Insights & Revelations Performance Series

"The show was great! I will definitely keep you guys in mind for next time."
-Stromberg Consulting

"Andy Christie has a true hit on his hands." -Chelsea Now

"A terrific event! Definitely one of the most fun events we've ever had."
-Program Coordinator, Port Washington Library
---